St. Patrick's Day 2017 Celebrations & Events in Baltimore
St. Patrick's Day is just around the corner, and whether or not you have Irish heritage, this is a great opportunity to join in on community festivities! We've put together a list of some of the most exciting St. Paddy's happenings in the city, and we've organized everything by date so you don't miss out on anything!
Here's what's happening this March for St. Patrick's Day in Baltimore:
---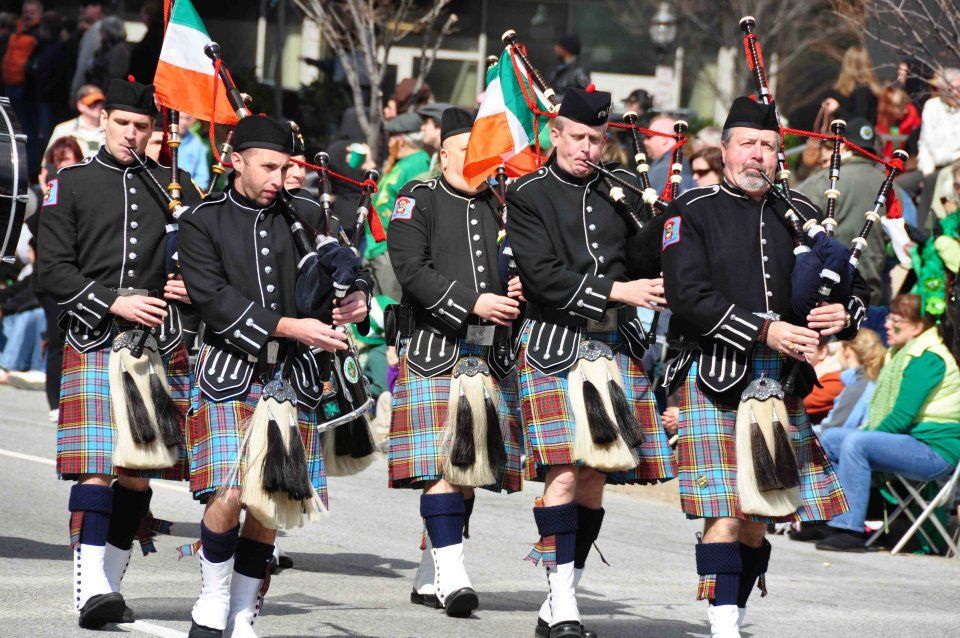 Photo courtesy of the Baltimore's St. Patrick's Day Parade Facebook page
Date: 2pm, Sunday, March 12
Location: Charles Street, Pratt Street
Join the city of Baltimore for its annual St. Patrick's Day Parade! Enjoy music, dancing, and thousands of people coming out to celebrate Irish heritage. Learn more about the parade and check out a map of the parade route here.
There are also a couple of other events associated with the parade, including a Parade Mass and an Irish Breakfast fundraiser. Take a look at the calendar here.
---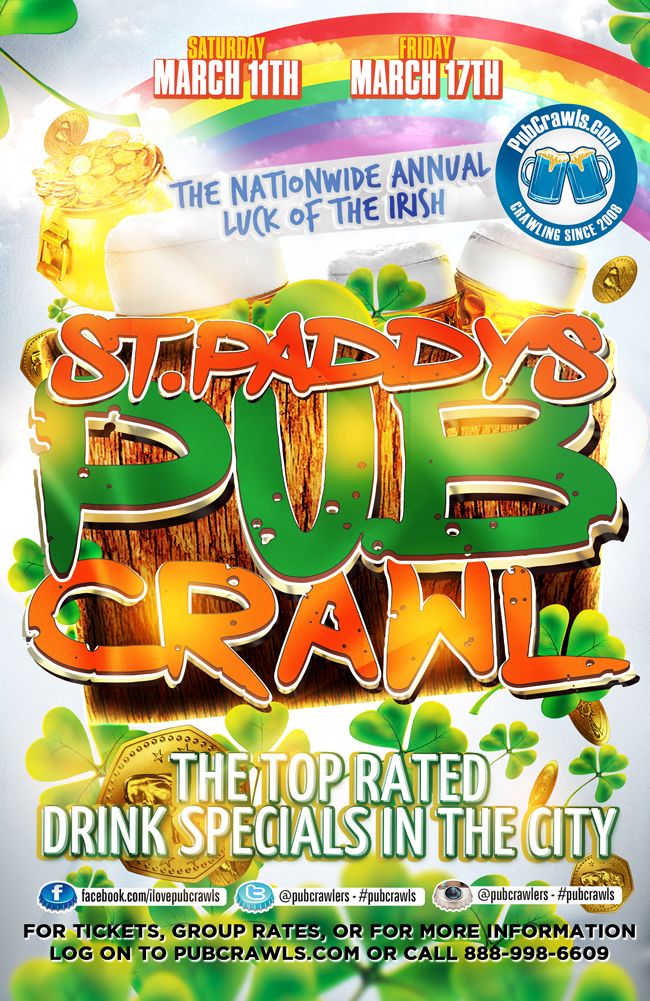 Dates: March 11, 17
Location: Baltimore
Get ready to enjoy some top-notch bar-hopping! This year's tour is taking place right in the heart of Baltimore, and once you register for the pub crawl, you'll receive a packet with everything you'll need for the evening. This includes an official pub crawl wristband (that will help get you into bars for free, get access to drink specials, and more) and a map with all of the participating locations. Buy tickets (and check out their group rates!) and get more specific details here.
---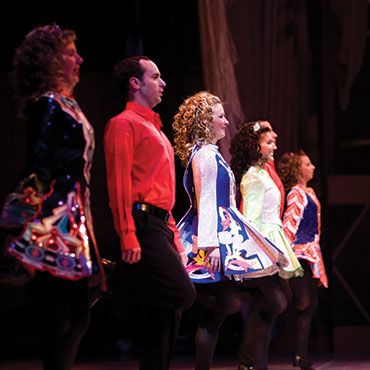 Photo courtesy of BSOMusic.org
Dates: March 16, 17, 18, 19
Located at 1212 Cathedral Street, Baltimore, MD 21201
Complete with step dancing, bagpipes, and gorgeous songs, this celebration combines modern hits with Old World classics. Jack Everly and the Boston Symphony Orchestra SuperPops team up with a huge range of guests to present Celtic Celebration! Check out show times and get tickets here.
---

Dates: March 17
Location:

328 N Charles St

Baltimore, Maryland
Enjoy live music and excellent Irish fare at O'Shea's! Learn more about the band here, and check out their menu here.
---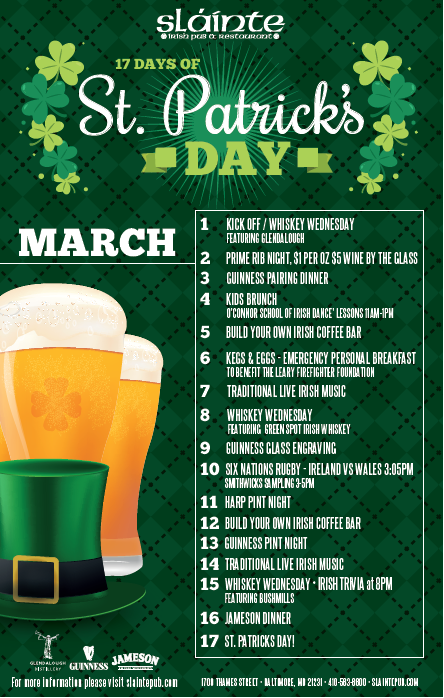 Dates: March 1-17
Location: Historic Fells Point, 1700 Thames Street Baltimore, MD 21231
Have a busy schedule and can't make it to any of the other events? Good news—Sláinte Irish pub has something special and festive happening every single day until March 17! Enjoy live Irish music, an Irish Coffee Bar, "Whiskey Wednesday," and more! Check out the schedule here.
---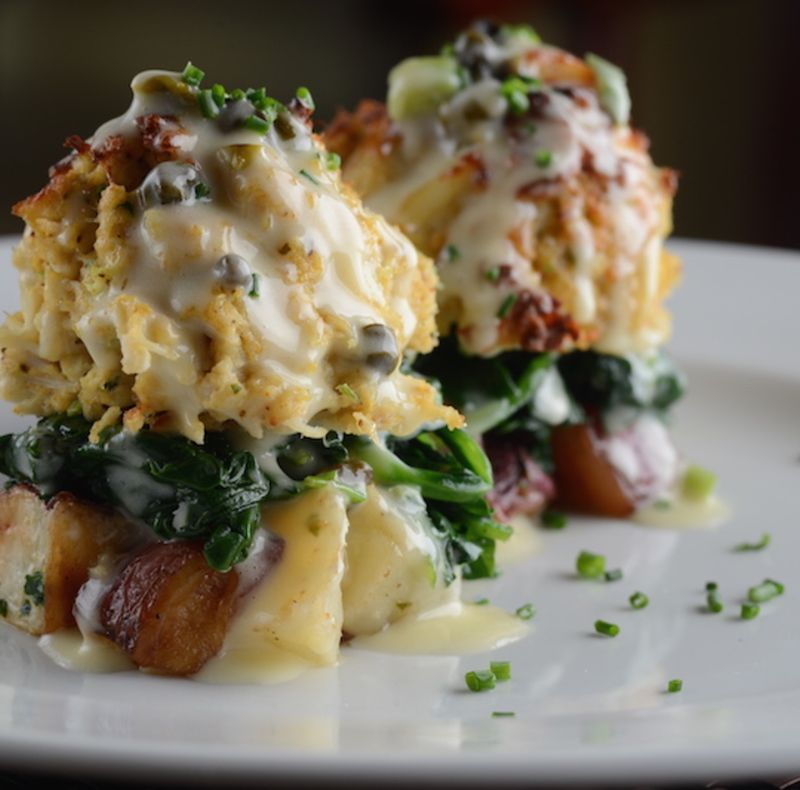 Photo courtesy of tirnanogbaltimore.com
Dates: Always!
Location: 201 E. PRATT ST., 2ND FLOOR, BALTIMORE, MD 21202
You can always stop by Tír na nÓg Irish Pub for some delicious Irish fare. Enjoy their Warm Guinness Blonde Bread, Irish Nachos, Mary's Shepherd's Pie, Tommy Moloney's Corned Beef and Cabbage, and much more. Check out their menu here!
---
There are so many other events happening for St. Patrick's Day as well—we recommend checking out the Baltimore Sun's list as well!
Just looking to grab a laid-back beer with some friends to celebrate the occasion? Check out our Baltimore beer guides here:
In the mood for a beer and a great food deal? When it comes to taking your pick from a wid...
Explore our favorite Baltimore beer spots in Baltimore! Plus, all of our picks have some t...
---